Morning, friends. How's your Wednesday going so far? We are on fire today...
It's been a few days coming but this morning the traditional holiday playroom cull has been completed. 3 bin liners of 'crap' is hiding in the utility room to be smuggled out of the house ASAP. I'm quite happy with the playroom on the whole...until it's the holidays and the boys insist on, you know, playing in there!! What kind of sadists are they?? I've halved our toy car box, rid the dressing up box of all tatty costumes with bits missing, flung plastic tat away with gay abandon...it feels quite nice!
Have also emptied Husband's Barcelona suitcase as it had been sitting on the dressing room floor for almost 36 hours with dirty clothes festering inside...why are boys so grim? I suppose it's progress in a way, a few years ago he would have left it in the lounge for a week, so upstairs is a step in the right direction. Maybe in another 10 years I'll get him to empty it straight into the washing machine. I aim to get the empty suitcase put back in the wardrobe before he dies...I'll let you know how we get on!
So yes, I've been rather productive this morning and it's only 10am. Washing machine is on a second wash, boys are happily playing in the slimmed down playroom (and oddly, have mentioned nothing of the cull, they haven't bloody noticed!), and we're all packed and ready to head out for a trip to the park with Posh Mama and her girl. One of the many great things about having two weeks' holiday when everyone else only has one is that the park will be deserted this week. See also, playbarns and swimming pool sessions. Which is great for this Mama because, well I don't much like other people or their kids. Hurrah!
I promised to let you know what I'd treated myself to when Husband buggered off to Barcelona, and lo, here it is.
A few years ago, I mithered and mithered for a Tassimo coffee machine. Husband finally relented, we bought one, I didn't like the coffee it made. I spent a fortune on all sorts of different pods to no avail. I tried multiple times to hide the damn thing in the cupboard but he kept smugly pointing it out. At one point, Boy used it daily for hot chocolates (#middleclasschildren) but it has finally been relegated to the car boot pile. And this little beauty has taken its place. It's a Krups Pixie (apparently) and I bought it because this time round I did my research and I knew I liked the coffee pods. It was NOT to do with any movie stars in adverts!! It's for sale
here
but for God's sake don't bloody buy it right now as last week it was half price and no doubt will be reduced again at some point before Christmas.
In other news, we saw this in M&S yesterday...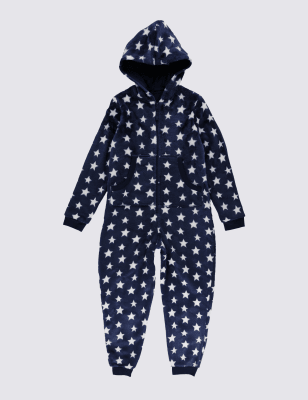 ...but they didn't have it in Boy's size, so while we're in Shrewsbury later we're going to nip in and see if they've got one. If not, it'll be
an online job
. It's the softest fleece ever, looked so cosy, he immediately nuzzled his sweet little face into it (the M&S lady restocking the nearby shelves was eyeing him up incase he'd got a dirty mouth, for once he hadn't!)
What else has occurred? Nothing much! Have two very important birthdays next week so must hit up Not On The High Street ASAP. Oh, and I've booked a little family trip for next April which I'll share later...
Back Friday with exciting weekend news, see you then x