It's Sunday afternoon and I sat down to write this post and immediately googled 'Monday blues'. Then I stopped, slapped myself and tried a more positive approach. Yes, Mondays mean work and school and chores and errands and routines and demands...but they are unavoidable and must be faced head on. They will not control us OR our moods!!
So here's the new image...
This Monday involves the washing machine repair man returning with some brushes (don't ask, I didn't even know washing machines HAD brushes) and a trip to Next to collect some belts I ordered last week and promptly forgot all about. I finally decided that 33 is no age to be walking around hoiking up my trousers every 5 minutes, it has to stop, so I've ordered some belts. I know right, durrh?! How has it taken me 33 years to realise that all I needed was a belt. Again, don't ask!
If I don't go tomorrow they will return them to the warehouse whilst simultaneously charging me for the privilege, or some such nonsense...who knows? Anyway, as soon as the washing machine is fixed, Toddler and I are off to the shops.
We may well look for these while we're out...
Leopard print trainers from New Look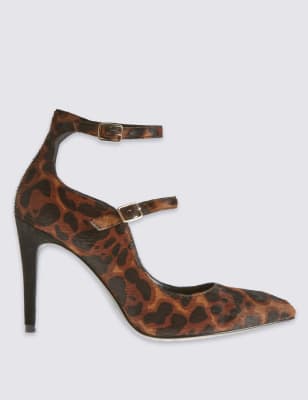 Heels from M&S
Also feel the need for some new baggy jeans, some white tshirts (that aren't see through, funnily enough?!) and a little black dress for our dirty weekend away next month (dirty as in 'look how dirty we are because we haven't even had time to shower all weekend after ALL THE SLEEPING!!')
Obviously I have to fit all this into the tiny window of time between the washing machine man finishing up here and Toddler having a pink fit because he's strapped into a pushchair and...well, doesn't want to be, really. We'll see how I get on.
Let's face Monday head on, smash the crap out of it and celebrate with gin at 7pm. Go forth and be awesome, friends!!