I can't quite believe I'm writing this, but I'm in the midst of planning Boy's 5th birthday celebrations. Somehow five seems quite impressive? All his other birthdays have hit me like an emotional bus too, but five (for some bizarre reason?) seems...final? Like his time as a small person is officially over? Maybe it's because he's also finished Kindergarten and is about to start main school?
Eeshk, I don't like it!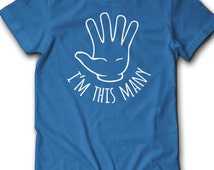 Anyway, party planning. I've ranted long and hard about our approach to birthday parties before
here
and
here
so won't bore you with any of those thoughts again today (*collective sigh of relief) I'll just give you some pretty visuals that are relevant to the big FIVE!!
Designed by
Veronica
on Etsy and printed out in Boots. Perfect!
I raided Amazon one night last week and bought some multi-coloured streamers as well as a 16 piece table set. There's only 3 friends coming for tea, but once you add in siblings and parents suddenly you're catering for quite a few so... Birthday balloons always come from the amazing
Castle Capers
in town.
This package of plastic tat was a couple of pounds on Amazon so I threw it into my online basket and thought I could pop them on the party table?
And then for party favours to take home, I found these Paw Patrol art sets for the big kids in
The Works
for £6 (£10 in M&S, I thank you!)...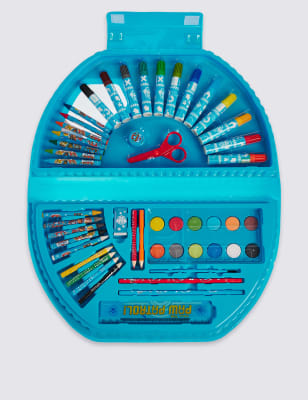 ...and these magna-doodle board and book combo in TKMaxx for the little ones.
(PS I wouldn't normally spend £6 on a party bag but when there's only 3 friends attending it doesn't matter as much..?)
Have surprised myself and NOT had one made this year, instead I bought a generic number 5 top in
Next
a few months ago, look at me saving money! Makes up for the expensive party favours...!!
The ever-amazing Yummy Mummy is already on the case, have sent her this as inspiration:
(she did reply and let me know that that might be total overkill for a mere 3 friends, killjoy!!)
and will buy one of these for his little party at BFF's house:
Thinking of four gifts this year was surprisingly easy, normally I struggle!
The Boy is obsessed with Hot Wheels cars, and loves the Star Wars and Avengers series especially. Normally sold for £5 each in Selfridges (ouch!), we found them for £2 in B&M recently so Husband distracted him down the gardening aisle while I was that annoying person who ransacks an entire shelf to find the exact items she needs and wants. My embarrassing mess-making escapade paid off though, we found 5 that we hadn't got yet, hurrah!
Boy is also water-daft and keeps asking for his very own snorkel and fins. Amazon Prime, done and done! And for his birthday book I went with a classic. Am looking forward to sharing this with him at bedtimes, our very first 'chapter' book :-)
The last gift was also pretty much decided for me...he cracked his bike helmet at the weekend! So we're planning a birthday trip to Halfords for a new one. Easy!
All that's left on my list is the menu, here's hoping we can get away from sausages for the third year running?! Oh, and wine for the parents!
If you can think of anything else I've forgotten, or have any great ideas for activities they can DO whilst they're here, let me know in the comments below. It'll be here before I know it.