As ever, the monthly round-up is late. Think this is the latest I've ever been, the month is a third gone already, damn it. Hey ho, these things must happen...

Let's see how I did with my October goals...



1. Embrace the slow cooker.

I have used it once or twice, really need to 'up' my slow cooker game as it's so flaming easy come 5.30pm. Will copy and paste this one into November's list!



2. Complete a pilates 100 every night before bed.

I managed 2 weeks. Which for me is quite incredible. Period week broke me - you ever tried doing 100 sit-ups with period cramps? Mew!



3. Get a start on the Christmas shopping.

Errr...I have done the boys' xmas pjs and grabbed some cycling socks when I saw them in Aldi. Ooh, and I've got 1 of 6 Secret Santa gifts...so yeah, more effort needed on this one too.



4. Decorate the house for Autumn.

Managed this one, gourds on display, wreath on door. Now just got to pack the whole damn lot away and unpack Christmas!!



5. Finalise plans for the school Christmas fair.

I'm not sure why I wrote 'finalise' as it is very much a work in progress until the day before but yes, I'd say the main framework is nailed down and it's good to go. Yay me!
6. Invite one school friend round for tea on a Friday
Never managed this...life just seems so bloody busy. I also scrapped the Friday plan - my original thinking was that on a Friday it didn't matter if it all went tits-up due to fatigue because they had the next day to recover. In actual fact, by Friday they are far too walloped to consider anything so... We do have someone coming round for tea tonight though, so I can finally tick this one off the list. Wish me luck that no-one cries!
So yeah, not a terribly productive month. What on earth was I doing?! Who knows...? Anyway, welcome November! We have high hopes for you!!
We've already celebrated Husband's big day in London and we have Goddaughter's 5th birthday celebrations this Thursday and her party on Saturday. I really need to spend this evening wrapping her gifts...
Boy has his very first school assembly on Thursday, must try hard not to cry.
We're having our very first Santa party at BFF's house on the last weekend of the month, boys have matching xmas tshirts, can't wait!
And it's the NCT xmas party this month too (December is literally impossible to find a date that all 7 families can attend so we have to have it a bit early!)
Other than that, it's actually quite quiet over here this month. Think we need to preserve some energy for the madness that is December!!
Granted, I'm 10 days in, but here are my goals for this month...
1. Use the bloody slow-cooker. I will. I swear. I will!
2. Create Boy's advent calendar activities for the month of December (something like this...)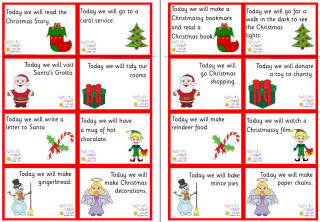 3. Write out our Christmas shopping list for gifts and possibly get a start on the shopping (even if it's just online!)
And that's it. I'm only setting 3 since I failed so miserably at last month's endeavours. Maybe less pressure will aid my performance?!
Hope you're enjoying the month so far and have made a start on your festive prep??
Will be back soon with an advent calendar update, more bastard ball-gown shopping news, Christmas party outfit update and news on how our very first after-school playdate with tea worked out!!