It is bloody baltic out there, boys looked like tiny Inuit people when they rolled out of the front door towards the car, poor little bastards. It was all I could do not to ring school and invent a vomiting bug. Bloody weather. Bloody lack of ability to apparate. Bloody bloody bloody!!
Anyhoo, here's to Monday and the exciting concept of a brand spanky new to-do list. Gotta love it.
Here is this week's list:
Buy more food.
I don't know what this is all about but for some bloody reason my family eat all the food I go and buy. I literally can't keep up with the whole supply and demand issue. Husband keeps complaining about the grocery bills...but then keeps EATING EVERYTHING. Weekends are the worst. It is never-ending, the requests and the quantities of food they devour. I despair. So yeah, yet more food shopping for this Mama. Joys!
Auntie and Niece coming to visit.
So really this job should say 'don't lose your shit and shriek at your sister...' I will try my damned hardest. I do miss her now she lives so far away...if only she wasn't so...anyhoo...
Decorate the school Christmas tree.
Once again, my disease of saying yes to everything takes over and lo, I am now decorating the school tree on Thursday with Baby in tow. What a hoot that'll be!
Finish Boy's advent calendar of activities and acts of kindness.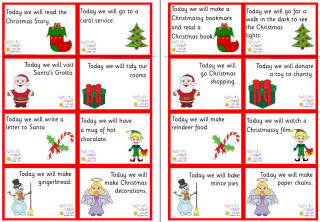 Which will look a bit like this. We've added some more grown-up jobs now that he's 4 and kept some old classics (such as picnic tea under the tree!) He loves it so much and I'm really excited about this year's, apart from day 18 which currently says 'decorate a gingerbread house with Mama', otherwise known as the world' most un-creative and control-freaky person. Poor sod, that'll be fun for him! Our new 'random act of kindness' is to put candy canes on all the cars in Waitrose carpark one evening after school so Goddaughter is coming with us and they have elf hats to wear whilst spreading the festive cheer. Weeeee, such fun!
Still have no ball gown for 5th December, really need to work on that.
Meeting Santa (for the first time)
As ever, we have somehow arranged 4 Santa visits. Here's hoping this isn't the year Boy gets wise and suddenly announces 'have you changed since we met THIS MORNING???' in a loud, accusatory voice!
Finish Christmas Shopping
Thanks to Amazon Prime and payday I have done quite an impressive amount already this weekend (ordered on Friday, in the office ready to wrap on Saturday afternoon, thanks very much!) but still have some bits and bobs to get hold of. Whilst I love queueing and shopping and physically holding my purchases in a smug, accomplished way, the thought of doing any of that stuff in the cold/wet/Telford town centre surrounded by chavs/with Baby in tow brings me out in a cold sweat so online is the way to go. Not quite so festive but needs must!
So, since I have so much to do I had really better get on with it. Will try and keep up with the posts this week, last week ran away with me and before I knew it 7 days had flown by without me noticing, dreadful I know!
Have a wonderful Monday, everyone. It'll soon be over ;-)