So, in our family Easter trees are definitely a 'thing'. I forget that some people don't put them up or don't even know what they are?! Strange creatures! We spent a lot of time on the continent growing up and in Austria especially these lovely little things pop up in all house windows, shop fronts, restaurant waiting areas...from the first day of Spring right the way through to Easter Sunday (and sometimes beyond!) I always loved them, they're such a beautiful celebration of Spring arriving.
Like everything, they vary in style and design and are open to your own interpretation. Some trees are homemade and some are shop bought. Some crazy people make their own egg decorations (draining away the liquid centre and painting them with vegetable inks tra la la) and others buy them in the shops the way God intended.
Here's a few examples...
(Cute little tree in a pot, would look great on the Easter Sunday dining table)
(Easiest way to make your own, grab some tall branches from the garden!)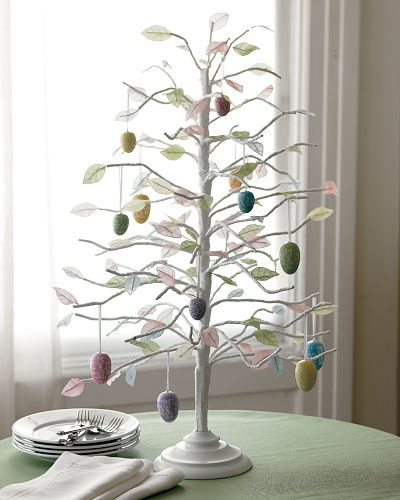 (A shop bought tree, we do have one of these and for the life of me I can't remember where it came from?)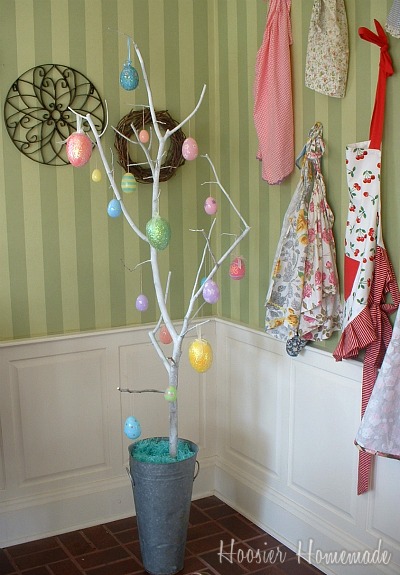 (And this one I love, it's more like a Christmas affair, tall and proud in the corner!)
Nana bought me my first set of decorative eggs when I was about 18 (the last one of which I just smashed putting up our tree this morning, sob) and I've added to the collection here and there over the years. Here's our current set-up...
(String of hanging birds, because, well why not?!)
(Husband grabbed these branches out of our brand new garden when we moved in on Easter weekend last year. They have sat in that vase for 12 months under the guise of being stylish, but really they're just naked twigs without their lovely egg decorations!)
(A new addition, because nothing celebrates the resurrection of Christ like paper egg lanterns!)
(Cute random basket from TKMaxx awaiting the haul of eggs)
(Our shop bought tree. Now I'm thinking about it I reckon this came from Habitat in Chester years ago...??)
(And another new purchase, think this one was from
Magical Story
at Heart of the Country. They do awesome seasonal decorations if you're ever near Lichfield!)
Easter decorations are an awesome gift for girlfriends at this time of year instead of yet another bloody chocolate egg (nothing against chocolate eggs, it just gets a bit ridiculous by the end!) I am a big fan of spreading the Spring time decorating cheer and have already gifted eggs to my sister and two girlfriends who had previously been blissfully unaware of the need to decorate a vase full of twigs in their lounge!
Also, if you wait until next week you will find stuff for a bargain. The beauty of buying items in every seasonal sale is that you throw them into the specific boxes just as you're clearing away and they're a lovely surprise a year later when you get the boxes back out again. At Halloween last year I found loads of stuff I'd bought in the sales and I had totally forgotten about the egg lanterns and the sign, they made me smile when I unpacked them today. Now we've moved into a slightly bigger place, I can see the need for some more little bits and pieces so will be doing the exact same thing next week and seeing what I can find on sale. I also think we have a space for some Easter themed books in the boys' room so will get on Amazon fast!
If you fancy branching out (see what I did there?) and grabbing some of your own, there's still time. Try your local TKMaxx,
No. 45 in Newport, Shropshire
has a lovely display in their front window, and
Not On The High Street
has a bunch of cute stuff I am physically having to restrain myself from ordering!!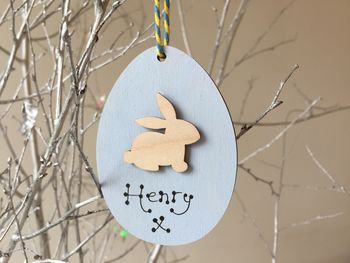 (Who doesn't need a personalised bunny for their tree? I ask you!)
And now, since I'm all decorated and ready, I had better hop out and buy some damn chocolate eggs or there will be hell to play come Sunday!
Happy Easter!!